News
Tadhamon Bank has experience that spans over 20 years and has more than 700 employees. The bank has continuously worked on developing its services through its specialized staff highly qualified.
Back
Sponsored by the Head of the Board of Directors, the Yearly Meeting of the Executive Leadership of Tadhamon International Islamic Bank Was Held
Wednesday, 19 February, 2014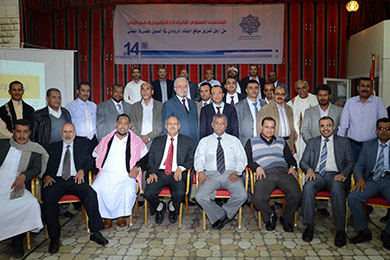 Under the slogan of "Strengthening the Bank's Position as an Innovator in the Yemeni Financial Sector
And under the sponsorship of Mr. Abdul-Jabbar Hayel Saeed, the Head of the Board of Directors, a meeting was held in Sana'a for the executive leadership of the bank.
In a word that he gave during the meeting, Mr. Mahmoud Atta Alrifa'i stressed the importance of the meeting, which is considered the first of its kind, in bringing together the leadership of the bank and the branch managers. At the same time he also reiterated the fact that the meeting aims to show the Bank's strategic plan for 2014-2016 in order to give the branch managers an overview of these goals. He also stressed the importance of marketing the strategic plan to the branches, considering that they are the most capable of implementing it through their work.
Alrifa'i thanked the efforts that were expended by the branches of the bank throughout 2013, and he called for them to continue their work during the coming years in order to ensure the achievement of the strategic plan.
The participants held two workshops during the meeting. The first one was about estimated budgets, and the other one discussed the skill of dealing with customers. The activities of the meeting were concluded with a seminar about effective managers.
.
Tadhamon Window